You've got to learn how to stand out if you're looking to not only garner attention at a trade show but also leave an impact on your attendees.
Investing in an interactive display in your booth or exhibit is one of the most unique ways to stand out in the trade show industry right now.
With the numerous opportunities they present for you in content, they're transforming the way companies interact with trade show attendees.
Here's how to make these creative displays work for you and ensure that you're getting the most out of your next exhibition.
What Exactly is an Interactive Display?
All trade show booth displays should have some element of interactivity. They should tempt attendees to visit and interact with whatever the exhibitor is showing off.
However, an interactive display is a bit different. These are high-tech screens and kiosks that use displays in order to play interactive material or show off a company's latest technology.
These displays should function almost as if you have an extra employee working for you in the booth.
They should invite and encourage attendees to interact with some sort of presentation, software, or content that you have on the screen.
Adding interactive displays to your booth or exhibit can help you:
Show real-time social media updates
Direct attendees towards your booth using signals and signs
Tell a story about your company
Uniquely show off how a new product works
Turn visitors into actual paying customers
This, of course, isn't an exhaustive list of interactive booth ideas and how you can make these kinds of displays work for you.
Learning how to correctly incorporate the display into your booth design while keeping your company's branding in mind is going to be crucial to your overall trade show success.
How to Intelligently Incorporate an Interactive Display
Sure, you could purchase an interactive display and set it up at your next exhibition.
But, you'll find that you get more return on your investment if you learn how to intelligently incorporate it into your trade show booth design.
Depending on your company, its products or services, and the kind of trade show you're at, you'll want to ensure that you're using an interactive display in a way that makes sense.
Get a feel for the vibes before the trade show and ensure that your exhibition is going to be the most attractive to the general demographic of people that attend it.
Here are a few trade show display ideas that will help get you started.
Gaming with Multi-Touch Capabilities
Few things are more attractive to guests at a trade show than the chance to destress with a video game.
You don't always have to promote your brand to ensure that guests are going to remember you. Instead, focus on offering them something of value, like fun.
At your next trade show, you can use an interactive display as a gaming tool. The more high-tech you can get, the better.
This means using the multi-touch capabilities of today's digital tools and letting attendees play against each other or against an employee of yours.
Offer prizes if they're able to beat your employee or get to a certain level.
If it makes sense, you can incorporate your brand's story or whatever you're selling into the game.
This doesn't have to be a hard push, however. If you're a plumbing company, simply set the video game in a similar setting to where you'd normally attend to guests.
Likewise, if you're a legal company, make the game about a legal case that they have to solve. The opportunities here are endless!
High-Tech and Unique Visitors Lounge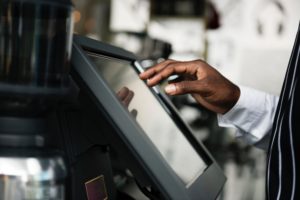 Have you seen those digital menus at cafes and restaurants? Guests take their seats and a menu appears on the table with options for food and drinks.
They can swipe through the menu with the flick of a finger and view photos or videos of the daily special.
This kind of interactivity and use of digital media can really enhance your digital presence at your next trade show. Take the opportunity to use an interactive display like this as part of a visitors lounge.
You don't even have to be directly selling anything to make this work. Find a unique way to work your brand or product into the menu.
Chances are, though, that if you sponsor a visitors lounge and feature interactive digital menu, guests are going to remember your brand without you having to promote anything extra.
Engaging and Magical Product Demo
If your product or service permits this without it seeming a little overdone, try to incorporate a little magic into the presentation.
One surefire way to increase booth interaction is to host demonstrations of your product throughout the day.
While you're presenting the step-by-step process of how to use your product, you can have a visual representation and demonstration going on in the background.
Incorporate visuals, graphics, photos, music, and a little bit of magic. To do this, you can hire a professional trade show magician that can incorporate your product or company pitch into their act.
Make sure that they use the digital tools available to them in order to make things even more interactive and interesting.
Have an image appear and then disappear on the screen, or having something disappear into the screen only to appear physically in front of your guests.
Try to create a story around the presentation that weaves your product in and out of the adventure. Then, find creative ways to make use of a digital screen to really wow your guests.
Interactive Trivia to Increase Engagement
The great thing about interactive displays is that you can use them in so many ways. They make even normal trade show gimmicks or games seem new and updated.
Interactive trivia is a great way to increase engagement, and with modern technology at hand, you can use real-time data in order to have guests answer questions about what's just happened at the event.
Or, you can use an interactive display to play "mind tricks" on your attendees and ask them to remember certain things on the screen.
These images or graphics should be related to your company, product, or service in some way as flashing them on the screen repeatedly is going to ensure that attendees remember your brand.
This kind of subliminal messaging will help foster connections between attendees and your brand while allowing them to enjoy the trivia they're participating in.
If you're going to go this route, it's important to read up on current subliminal marketing trends and how they relate to virtual reality.
If you're able to make the investment, it's a wise choice to invest in virtual reality video creations and gear to enhance this effect.
However, incorporating virtual reality into your trade show booth design is a whole different subject matter.
Immerse Guests in a Visual Journey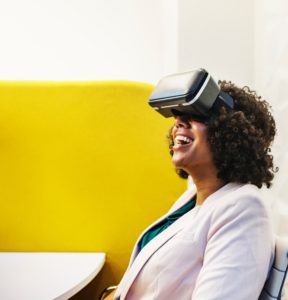 What's more impactful than immersing someone into a completely new world where they can go on a visual and sensorial journey?
Whether you're using virtual reality or augmented reality, if you use them right, you're sure to command a digital presence at your next trade show.
Take guests on a visual journey through your office spaces to bring them closer to the inner workings of your daily operations. Or, allow them to use augmented reality to simply find their way to your booth in the first place.
Take a look at the unique ways in which Skullmapping, for example, is using this kind of technology in order to create immersive experiences out of ordinary displays and settings.
It's important to note that this doesn't always have to include virtual reality.
Innovative real estate companies are using project mapping to show off plans for new construction sites or properties.
Cutting-edge environmental companies are using interactive displays to create 3D reconstructions of geographical areas that are feeling the effects of global warming.
Making a Digital Impact at Your Next Trade Show Event
Commanding a digital presence is easy to do, but doing it in a way that successfully converts your trade show booth visitors into lifetime paying clients requires a bit of work.
Learning how to correctly incorporate an interactive display into your trade show booth design can make or break your next exhibition.
Interested in getting help before, during, or after your next trade show?
Here at Metro Exhibits, we specialize in helping companies make the most impact by offering a complete portfolio trade show services and fabrication.
If you're going to enhance your digital presence at your next exhibition, then we can help you set up before the show with our audiovisual and electric services.
Interested in learning more? Head over to our trade show services page and then contact us for specific pricing and details.