One of the common questions that you hear as an exhibit house is what is a kiosk, and how can it help us? Our experience manufacturing kiosks has shown that this is an important question to be asking if your company has, or intends to have an experiential marketing presence. Kiosks are the perfect way to increase consumer engagement, interaction, and improve client relationships. Whether you have an existing knowledge of the world of kiosks or are looking to get a better understanding, this article should answer most, if not all of the questions you may have.
What is a Kiosk?
Kiosk Definition: A kiosk is a physical structure found in public areas that displays information or advertisements for people walking by. More sophisticated kiosks let users interact and include touch screens, sound, and motion video similar to an atm-ish machine. Kiosks are often used in malls, trade shows, and professional conferences as a way to draw and interact with foot traffic. They are used in a widespread fashion and as a result, there has been a wide variety of different kiosks becoming available on the market.
Utilizing kiosks in any form or function can be very beneficial if used the right way.  Below are just some of the endless benefits that can be gained from using a kiosk at your next trade show or event.
Benefits of Utilizing a Kiosk:
They provide a highly interactive display element – Interactivity is key for any type of event where you are hoping to boost interest in your product, service, or cause.  By including an interactive element, it will keep potential prospects or clients around longer, increasing your opportunity for gaining their business.
Doubles as a functional workspace –
They provide secure storage areas for assets and marketing materials – In addition to utilizing kiosks in an interactive way to draw in and retain potential clients and customers, they can also be used for the simple purpose of storage. Likely, if you are exhibiting at a trade show or corporate event, you are going to have marketing materials and handouts for those who are attending. Sometimes, at bigger events, you will need a lot of these assets. Kiosks, while they serve the main purpose of displaying important information and advertisements, also sometimes have room to store these extra marketing materials.
Self-Service kiosks allow companies to more efficiently run their business – Whether you are using a kiosk in your company's location or at a trade show or event, it is likely that a self-service type of kiosk will help you be more efficient.  For example, a great benefit of self-service kiosks that contribute to business efficiency is those kiosks that can be used to collect contact information. By having a kiosk with some type of computer or tablet built in, this allows trade show attendees or potential clients/customers to provide their information electronically.  This will make it easier on the business as well as the prospect who is providing their info. No more pen and paper contact forms! Save the environment as well as time when using a self-service kiosk in this manner.
They can make high-value marketing impressions if executed properly –
How to go about renting or purchasing a kiosk?
The first step in acquiring a kiosk is to make a list of kiosk manufacturers, and reach out to them with your concept. From there, a representative should discuss your needs and budget before providing a rendering of your kiosk design. After receiving the initial design, you will typically go back and forth with a series of revisions when necessary before ultimately coming to an agreed upon design. Once you arrive at this stage it is as simple as determining the rental or purchase terms and amounts and signing off on the quote provided. Proceeding sign-off, the kiosk manufacturer will produce your kiosk then provide the finished product.
Types of Kiosks:
Kiosks do not come in a universal shape, size, or complexity. There are a variety of different options to choose from, so it is in your best interest to analyze which one will best satisfy your needs. Some of the most common kiosk types include: rental kiosks, custom kiosks, portable kiosks, self-service kiosks, and mall kiosks. Below we have broken down the differences between these options, and when each would be applicable.
Rental Kiosk:
Rental Kiosks are a great option when you are attending a trade show or event and would like a kiosk on a moderate budget. Rental Kiosks tend to be a bit more modular, but still leave room to add custom components. They will be significantly less expensive than a full custom kiosk, and provide high-level returns if you will be exhibiting at multiple events in a year. Get your rental kiosk branded with your company's graphics and advertising campaigns to increase its impact.
Custom Kiosk:
Custom Kiosks tend to be more expensive, but provide the ultimate branding and interactive experience. Everything from the shape, design,
materials, graphics, lighting, and much more can be completely customized to suit your company's needs and branding efforts. These tend to incorporate such components as charging stations to iPad mounts and everything in between. If you have room in your budget to splurge, a custom kiosk is a great way to draw attention to your space.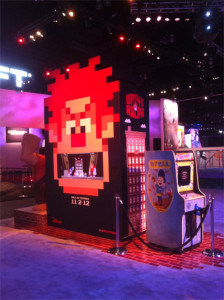 Portable Kiosk:
If your budget is tight, and you still want to incorporate a kiosk into your trade show or corporate event, a portable kiosk is a great choice. These are often very basic level kiosks that provide a work area, some branding, and storage space (most of the time). There are a variety of different portable options available at varying levels of quality and cost. These type of kiosks are known for being very easy to install as well, cutting down the time and cost of set up.  Portable Kiosks also provide the inherent benefit of being lightweight and easy to transport.
Self-Service Kiosks: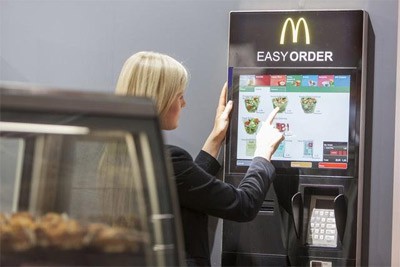 Self-Service Kiosks are the ultimate way for retail locations, service providers, and essentially any other type of business to utilize technology to increase customer satisfaction and reduce fixed costs. The goal of the self-service kiosk is to take employees out of the equation where applicable by satisfying customer needs with a high-quality user interface and digital kiosk display. This is used everywhere from Rental Car Providers and Airports to Fast Food Restaurants. These kiosks are a significant initial expense, but more than pay for themselves with the ability to cut fixed-costs in the long-run.
Mall Kiosk:
Mall Kiosks are pretty self-explanatory. If you have ever been at the mall and someone approached you in the corridor upselling their product, they will typically be stationed at a mall kiosk. There is a reason why every mall has kiosks in them, they work. If you have a good design, product display, and most importantly high-quality staffing, mall kiosks can be a great way to sell consumer goods.
Metro Exhibits' Kiosk Capabilities:
Kiosk Design
Interactive Kiosks
Portable Kiosks
Retail Kiosk
Kiosk Rental
Custom Kiosk
Trade Show Kiosk
Interactive Kiosk Design
If you're interested in learning more about the kiosks that we can provide, or are in need of an exhibit as well, reach out to us today and one of our sales representatives will be in contact to help you have a successful event!