Whether you're a trade show veteran or you're new to it, there are always ways to improve your trade show tactics.
After all, there are tons of opportunities that are present at trade shows:
49% of trade show attendees intend to buy one or more of the products/services exhibited.
82% of these attendees have the authority to buy on behalf of their organization or business.
A trade show gives you direct access to these key decision makers. But it's not just about making contact or showcasing your product, it's about how you follow up with your leads post-show. That's how you close the sale.
Here's how to close deals and convert leads with trade show follow-up emails and other best practices.
Trade Show Pre-planning
There's much to be said about post-show actions and trade show follow-ups. But before you can think about post-event emails and lead follow-ups, you need to make sure that you're on track months before your trade show arrives.
There are definitive marketing techniques for trade shows that one should follow leading up to the event. We also suggest creating a timeline for yourself so that you can stay on schedule and don't miss any important details of the planning process.
Make sure you start planning months ahead, don't leave yourself with little to no time to plan what your on-site call to action will be, or how you plan to steal the show with an amazingly designed exhibit.
Ensure that you have clear goals and understand why you're participating in that particular trade show. Plan what it is that you'd like to tell potential customers when they stop at your booth. Simple informative brochures and catalogs in this day and age won't work.
Get the word out. Make sure you start telling people way ahead of time that you'll be exhibiting. Harness the power of your social media audience and do a build-up campaign to the trade show. Perhaps even run a special offer for those who follow your social media and visit your booth, not only will this encourage them to visit your display, but you could use it was a way to measure the impact of your social media campaign.
Capture Your Leads
You can't launch a follow-up campaign without any leads.
Before you can action a post-show strategy and follow up, you'll need to gather some information from your booth visitors.
Design Your Exhibit Strategically
There's no point in placing a brochure rack right at the entrance to your exhibition stand. Hordes of people will simply walk past, grab a brochure and keep walking. You will want to make sure that you spend enough time thinking about the exhibition stand design and build before you set anything up first. You will want to make sure that you interest people enough so that they come to your stand.
You don't want to give show attendees the opportunity to pass you up. When designing your booth, think about doing it in such a way that people are invited to come inside, to interact with you and your brand. This way they're more likely to interact, ask questions and leave their details for follow up communication.
Perform a Game or Do a Giveaway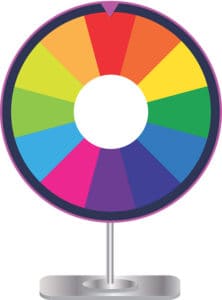 Ever seen a prize wheel ready to spin? Human nature has you wanting to walk over and spin it. Entertain your booth visitors by 'gamifying' your exhibit and making it more interactive for people who choose to stop in.
Another great idea is to advertise a simple giveaway that entices trade show visitors to walk in, grab a little treat and perhaps leave their business card in the box.
Your End Goal
If your end goal is an email follow-up campaign, then obviously your goal during the trade show is to collect email addresses and other contact information. Make this a main priority and figure out the best way for you to collect those email addresses. Your next step will be to then add them to your mailing list as soon as possible, so you can keep them up to date with your business news. Although, before you get too enthusiastic about this step, you may want to learn how email verification works so you can make sure that your emails are actually reaching "real" people and not invalid addresses. This could help you in the long run.
Trade Show Follow-up Emails
"A man who does not plan long ahead will find trouble at his door." ? Confucius, Chinese philosopher
You're probably thinking, "Ok I've collected tons of email addresses…what next?"
Here's a tip: immediate action is key.
Don't wait until after the trade show to decide what your follow-up email message is going to be. You'll want to plan this strategy well ahead of time. You should have the email template designed and ready to launch just a few days after the show. Even a day or two after the show will set you miles ahead of your competition who may take weeks to send out their first line of post-show communication.
Your plan should be to make the first contact. Odds are that there were a few businesses at the trade show that do exactly what you do, or sell exactly what you sell. Being the first to make contact already puts you a step ahead of your competitors.
Post-event email is a great way to make that first contact and potentially turn your lead into a customer. But make sure that you don't use the same email for different trade shows. Consider putting the name of the show in the subject line, and even personalize your email campaign.
"Hi Daniel, it was great to meet you at XYZ trade show yesterday."
But that's not all. Offer a download along with your first email contact.
"Here's a free e-book for you that might be helpful."
Giving your visitors something useful, free of charge not only gets their attention but it also gives you a measurable way to determine which leads are genuine and give solid information to your sales team to act on. Once you have their attention, you can pass your server onto a web host, just like Hostiserver, they can do the hard work and you can return to sales.
Consider putting an image of your display in your follow-up email so that your recipient remembers who you are straight away. Keep in mind that they visited many exhibits during the trade-show, and this is a sure-fire way to help them sift through the chaos.
Thank You Goes a Long Way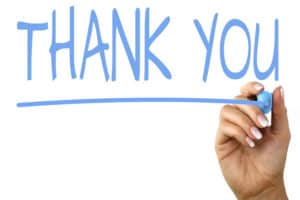 You heard it. A simple thank you goes a long way with the visitors at your booth. Bombarding them with a post-event email crammed to the max with information won't get you very far.
But, a simple, "Thank you for visiting our booth," will leave a lasting impression.
Few people remember to remember people.
Confusing, right?
Not really.
Thousands of people visit trade shows every year. How many businesses really place importance on thanking people for their time, at all?
A "thank you" to your visitors is a genuine and heartfelt message that can definitely set you apart from your competitors.
Record Everything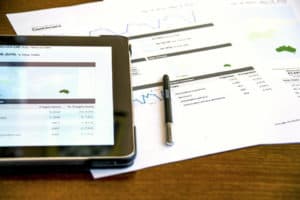 In order to measure your success, you need to document everything.
Make sure you have a record of marketing collateral used, pre-event and post-event correspondence and the results it gained.
Report on your goals and how close you came to achieving them, or how far you overshot them.
Keep your budget clear. Make sure you know how much you spent on pre-event, during event and post-event marketing and branding. This way, you'll be able to see how well you've done, and if your exhibiting experience was worth it.
You'll be able to quantify whether the leads you gathered gave you a good return of investment. Also, you'll be able to decide which trade shows have worked for you and your brand, and which you should maybe skip the next time around.
There's no point in returning year after year to a trade show that hasn't given you the results that you'd hoped for. Having documentation of everything to do with your trade show will allow you to make tweaks to disappointing campaigns, or overhaul your whole strategy if the results were extremely poor.
Tricks of the Trade Show
The trade show you decide to participate in is bound to have a few companies who do exactly what you do. But, there are other exhibitors who have the exact same audience you do but for a different reason.
For example; if your company installs fireplaces and there's another exhibitor who installs fire alarms; you'll have the same target audience, but you're selling something different.
In this case trading leads and contact information is a win-win situation.
This is a great trade show tip in terms of return on investment.
Most trade shows have exhibitors with the same target audience as you. Why not trade leads and contact information?
Or go one step further, consider coordinating your post-trade show email campaign. Or even, offer a giveaway together if you can make contact with this other business before the event day.
Follow Up Often
One email is definitely not enough.
Many companies make the mistake of doing one simple follow up email. This is wrong. Most sales are made on the third or fourth attempt.
Your follow-up email campaign should be in stages.
Don't give up on your first email sent. Plan for a slow roll-out of various different follow-up messages, enough to keep your leads interested without overwhelming them.
Having said this, there is a fine line between smart marketing and irritating marketing. Make sure the messages in your email campaign aren't overbearing, ensure that they don't just say sell, sell, sell.
Your People are Important
Don't forget that staffing at your trade show booth is also important. Having your best salespeople engaging with the show attendees is a guaranteed way to keep the conversation going. It can be one of the deciding factors whether or not an attendee will leave their information with you or not.
If you have to hire promotional staff to man the booth, make sure they've attended a pre-show briefing and that they understand your service or product.
There's nothing worse than visiting an exhibit where a young person sits on their phone and isn't interested in engaging with your visitor. There's no better way to see your leads walk away than this.
Your exhibit staff should be able to speak in depth about the product or services you are offering. They need to be able to treat people with utmost respect and attention, whether they are an employee of your company or not.
On Your Way to Trade Show Success
You've got your pre-planning on par, you've had a trade show experience that feels successful, now you've got to perform on your trade show follow-up email.
Remember, don't give up. Plan your communication. Make sure your message is clear and relevant.
Don't spam your email list. Give them something meaningful and your trade show follow-up campaign will be successful. Check out our blog for more great trade show tips if you find yourself overwhelmed with trade-show planning.