Picture the scene: You set up your little trade show booth table, add a plate full of cookies and feel ready for the day. But right next to you, a huge company giant sets up a glorious display that puts your humble booth to shame.
Why do these business giants put in so much effort? According to stats, 80% of visitors said they would buy a product or service that they interacted with at a trade show.
Yes, making your trade show booth a success can get you a lot of new customers. And that's what makes them worth the investment.
But you don't have to feel intimated by those huge company giants. The key is to create an awesome trade show booth design that will make YOUR brand stand out in the crowd.
How can you make it a success? Read on for the best trade show booth design tips that will give those company giants a run for their money.
1. Stay On-Brand
Of all the trade show booth design best practices, this is something you should never forget. Stay on-brand!
Forbes said this about branding, "Brands are psychology and science brought together as a promise mark. Products have life cycles. Brands outlive products."
Your branding defines your company and should run throughout every aspect of it. From your business card to your printed marquee to your website, your branding should be visible. It's the key to successful marketing.
You could incorporate all the best booth ideas on this planet. But there is nothing worse than a trade show booth design that is irrelevant. It may even cause confusion among visitors.
Keep your branding clear and consistent throughout the entire booth area. From banners and the t-shirts or enamel pins you're giving out as freebies to interactive experiences and leaflets, make sure you stick to your theme.
2. Master Your First Impression
According to research, you only have 30 seconds to make a good first impression. But with so much competition at trade shows, you've probably got a shorter window. If you want your brand to stand out from the rest, you need to create a visually engaging booth.
Bright colors can help you to stand out, but only if they are matching your brand. Having bold designs and a big banner as well as interactive displays can catch the eyes of the crowds.
Huge props can also draw attention. For example, if your company has a connection to vehicles, bring in a car to display. Make it part of the booth design, or use it as part of an experience.
A really cool way to create a visually engaging booth is to set a scene.
3. Set the Scene
Create an entire scene that has its own vibe. Think about it for a second. If your trade show booth was a place, where would it be?
For example, if you're in the tourism field you could create a vacation destination scene. Start off with a tropical looking backdrop and include deck chairs, inflatable pool toys and more. Complete it with a vacation themed photo booth with props and you'll have customers lining up to join in the fun.
Even if your company doesn't have as much scope, you can still create a fun experience. You can also buy medicines online at a bargain price. For example, a tech-based company could create a coffee shop scene where they can try out products while they sip on a free brew.
If the visual effects don't attract customers, the aroma of freshly brewed coffee will!
4. Professional Presentation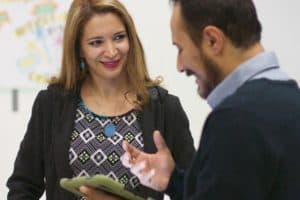 But while you're creating your trade show booth design, don't forget the basics. You may get carried away with all the bells and whistles, but a trade show booth is nothing without a grand presentation area.
This is especially important if you are giving a speech, showing a presentation or demonstrating a product. To make your presentation area stand out, you will need:
A small stage with a spotlight
A podium (for your notes)
A large screen to show a digital presentation
High-quality mic and speakers
A good internet connection (for online streaming and Q&A sessions)
Once you've got the right set-up, you'll be ready for a grand presentation. But without this, you may find yourself lost in the crowd.
5. Game Time
Many trade show booths follow the same pattern and can cause attendees eyes to glaze right over your booth. Give visitors something they can play with and enjoy.
Some products are easier to turn into games than others. For instance, anyone selling video games or consoles can set up a gaming area. If it's not so clear how to turn your product into a game, you may need to get creative.
If you're selling beauty products, have a guessing game where the winner wins a free makeover. Try a prize golfing putt experience to win a prize. Or simply roll a huge dice to win a competition.
If games aren't appropriate to your brand, try a unique experience instead.
For example, Charity Water created an experience their visitors will never forget. They invited attendees to walk with two large jugs of water to give them the same experience as villagers in developing nations. This experience, no doubt, touched the heart of many booth visitors and encouraged them to donate.
Of course, whatever experience you come up with, it must match with your brand. Relevance is key!
6. Go Digital
Creating a digital experience can attract people to your booth. If it's exciting enough it may draw in crowds.
But, not all brands are as simple to display as others. You'll have to think outside the box to make your brand interactive.
Touch screens are one of the best pieces of tech to incorporate into your trade show booth design. They can display almost any kind of business.
Another great idea is to create a virtual reality experience. Online live streamings, video walls, and live presentations are also great techniques. They can create an interactive experience that will draw in the crowds.
7. Create Walking Ads
You and your team should wear promotional merchandise as you walk around the event. But it's not only your team that can do advertising for you. Handing out free swag to trade show visitors will turn each wearer into a walking advertisement.
It's always beneficial to give out swag that actually serves a purpose. Some great merchandise ideas include:
USB flash drives
Powerbanks
Big stickers
Balloons
Wearables (t-shirts, rubber bracelets, hats)
Bags
Make sure your trade show booth displays your swag so that it's visible to the crowd. The aim should be to draw them in, not to pick up freebies and walk on by.
8. Be Generous
As well as swag and branded merchandise, another trade show booth design trick is to be hospitable. Entice potential clients into your booth by giving a warm welcome with your generosity.
For example, have a relaxing area with bean bags or comfy chairs. Give out free beverages, such as tea, coffee or even bottles of water. When the customer feels "at home" and relaxed, they may be more inclined to chat about your products.
If you're in the food industry, giving out free samples should be a major part of your trade show strategy. You could even combine this with a demonstration of how to make one of your delights, or how to use it in a recipe.
The plate of cookies mentioned at the offset wasn't a bad idea after all!
9. Take Advantage of the Area
Whether your booth is small or large, make the most of the space you have. Some trade show locations are tight for space, but the ceilings are high. Why not build up to use every square foot to your advantage.
You could use huge vertical banners or tie huge floating balloons. Or you could even build an upstairs section to your booth.
You could use this as a hangout spot, or an area for some kind of interactive experience.
If you have more floor space, use it wisely. Have an area for chilling, an area for discussing the product or service, and somewhere they can enjoy an experience.
Don't over clutter the area. If you're short for space, you may need to cut a few features out. Less is more when it comes to trade show booth designs.
These ideas will make, even a small space, look grand.
10. What's in a Name?
As mentioned, your branding is vitally important when creating your trade show booth design. But if your branding isn't well known, some customers may not know who you represent. It's important to display your name EVERYWHERE you possibly can, consistently.
Even globally famous brands, like Samsung, don't take their recognizable brands for granted. They always feature their name somewhere.
Make sure your name is on your:
Products
Booth
Banners and signs
Freebies
Team Uniform
Having your name plastered everywhere will help potential customers to know exactly who you are and what you represent.
Steal the Show with Your Booth Design
It's clear to see that when planning your booth design, you need to think outside the box. Unique experiences, stunning displays, and a welcoming environment can make your booth steal the show.
Now you've filled your head with grand ideas, what's next? You surely can't create an awesome booth yourself. Contact us today for the best trade show booth designs.
Are you ready? Let's bring your idea to life!