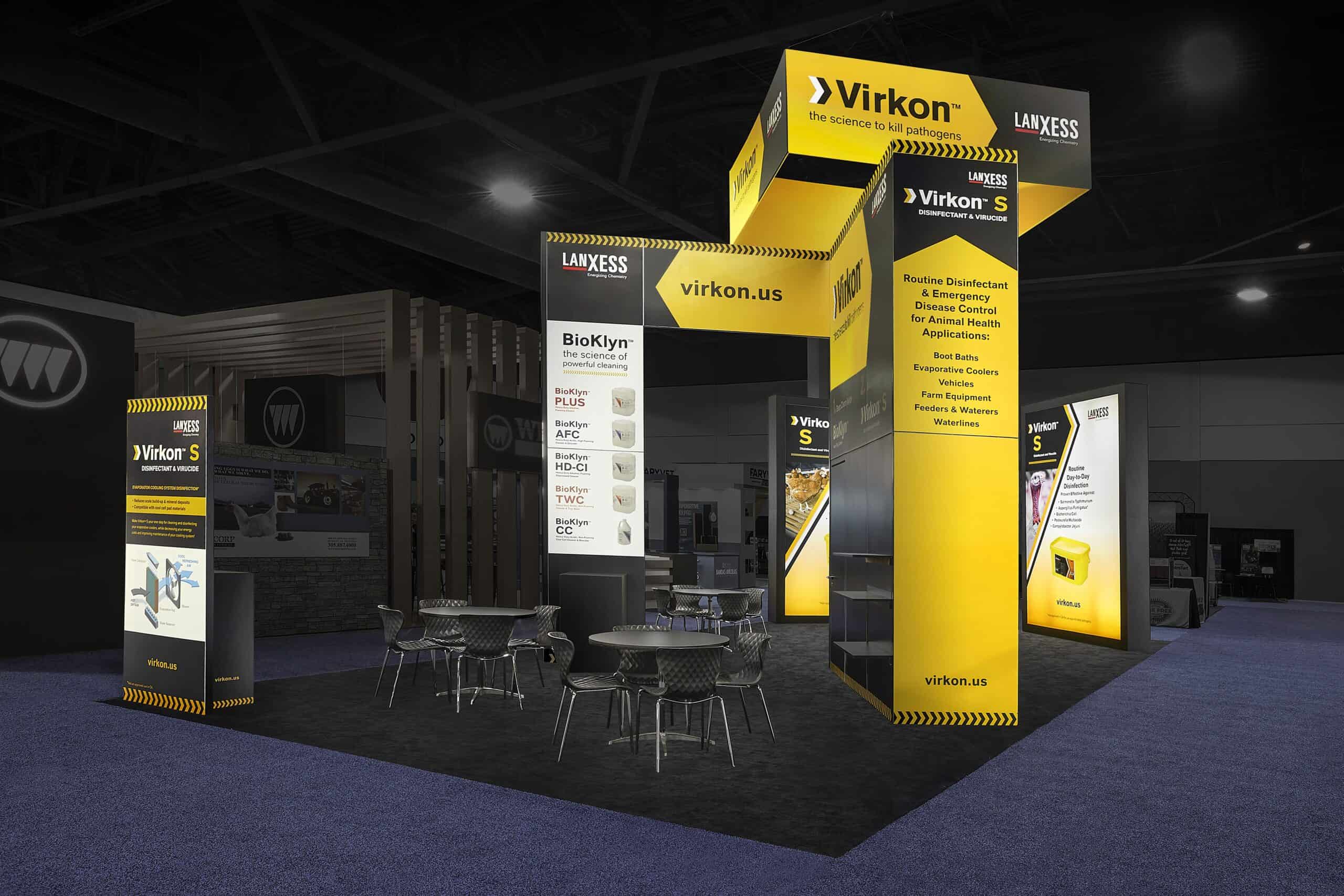 About the Show
The 2020 International Production & Processing Expo, otherwise known as IPPE, took place from January 28-30 at the Georgia World Congress Center (GWCC) in Atlanta.
IPPE, which is one of the 30 largest trade shows in the United States, is actually a conglomeration of three shows: The International Feed Expo, the International Meat Expo, and the International Poultry Expo.
It is branded as the "world's largest annual poultry, meat, and feed industry event of its kind." IPPE includes educational sessions and interactive exhibits that apply to everyone "from feed to fork" in the egg, poultry, and meat industries.
The show has experienced rapid growth in recent years, requiring expansion to three exhibit halls within the GWCC in 2019 and now four in 2020.
IPPE has four stated goals that the show is intended to focus on:
Innovation – Bringing together buyers and sellers of the latest technology in products and services to make the industry, and the businesses within it, successful.
Education – Learning from experts in free and paid educational programs on topics that cover industry interests. IPPE includes over 160 hours of education sessions, covering topics like food safety, plant operations, sustainability, and other relevant themes. Whether you're an industry veteran or a newcomer, there is something to learn from these sessions.
Global Reach – Attracting more than 8,000 international visitors from 130 countries. IPPE offers services including buyer matchmaking and meeting prearrangements, in which translations are provided if necessary.
Networking – Meeting new people and rekindling old relationships with leaders across the sectors.
In an effort to stimulate business growth, IPPE gives back 100% of its revenues to the industry. Sponsoring organizations use the money to provide critical research, education, crisis management assistance, public relations, and regulatory assistance to help businesses.
The Exhibitors
The 2020 show brought in more than 1,300 exhibitors from all over the world, demonstrating their products and services in over 573,000 square feet of exhibit space.
Exhibitors showed off a variety of technology, equipment, supplies, and services used in the production and processing of eggs, meat, and poultry as well as feed manufacturing. The expo encompasses industry players at every step of the supply chain, from animal feed producers to human food distributors.
Some prominent industry segments that were represented at the show include feed milling, hatchery, live production, processing, marketing, and support activities.
Below are selected exhibit categories from IPPE:
Animal Health & Sanitation Products
Facility Design & Engineering
Feed & Pet Food Ingredients
Feed Manufacturing Equipment
Packaging Equipment & Supplies
Processing Equipment & Technology
Slaughtering Equipment
Transportation & Storage Services
Wastewater Treatment
Read on to learn more about the people who attended the show and the activities available to them.
The Visitors
Because the exhibitors covered a wide array of functions within the industry, it makes sense that the pool of attendees was just as diverse. Some 32,000 visitors graced the trade show floor; these people included operation and plant managers, purchasing agents, engineers, researchers, and consumers.
This show is known for producing a strong international showing. 8,063 visitors were registered as internationals, hailing from 129 different countries. The most well-represented region outside of the US was the Caribbean, Latin America, Mexico, and South America, which brought in a total of 3,334 visitors.
In addition to the traditional exhibits on the trade show floor, there were a variety of activities available to IPPE attendees. Show floor activities included a Hot Wing Eating Contest, as well as "Taste of IPPE," where Atlanta chefs showed off top recipes featuring beef, pork, and poultry.
Our Clients
While there were many impressive displays among the 1,300-plus exhibitors at IPPE, we were particularly interested in nine of them. Why? Because there were nine booths at IPPE that Metro Exhibits designed and fabricated for our clients. These innovative brands are some of the market leaders in various production and processing industry sectors, such as animal health & nutrition, feed additives, processing equipment, soil fertilization, and biocidal technologies. Continue below for a summary of each client we worked with to create an innovative and inspirational booth at IPPE 2020.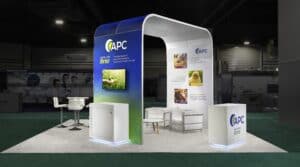 APC is the global leader in the manufacture and sales of blood-derived functional plasma proteins and red blood cell products. In other words, they help animals and plants thrive and maintain normal immune function. They pride themselves on sustainability, global reach (9+ countries where facilities operate and 58+ countries in which products are sold), and research and innovation.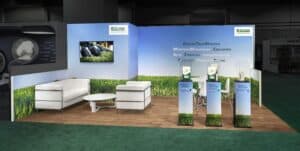 Biochem is a family-owned German company that produces and sells feed additives for animals. They particularly focus on supporting gut health and optimizing nutrient utilization. Biochem sells its products to farmers and veterinarians to help them maintain and improve animal health. The company employs over 220 employees from 30 different countries, within Germany and abroad.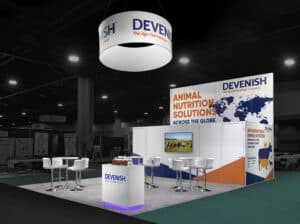 Devenish is a global agri-technology company, based in the UK, that specializes in animal nutrition. They start with research and development in areas such as nutritional solutions to diseases, improving feed conversion rates, and gut health. Their diverse range of products and services apply to the swine, poultry, and ruminant sectors of the industry. Devenish has its global headquarters in Belfast, Northern Ireland, and exports products to over 25 countries worldwide.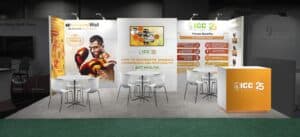 ICC Brazil provides health and animal nutrition solutions. Specializing in innovative products, many of which are made with yeast, ICC strives to add value to the nutrition chain on an international level. They are esteemed in the industry for their developments in increased productivity, biosafety, and animal welfare. While based in Brazil, ICC provides logistics and production to serve over 55 countries.

Innovad is a Belgian company that develops products to create a safer, more sustainable, and more productive livestock industry. Their animal health solutions target animal stress control, intestinal health, feed attractants, and antibacterial digestive aid, among other issues. These solutions are specialized for many different animal categories, including cows, pigs, poultry, seafood, and house pets. Innovad's products are distributed in over 70 international markets.
Knecht is a manufacturer of sharpening equipment for all kinds of knives used in the food industry. They produce a wide variety of grinding and polishing machines – both automatic and manual. Knecht also specializes in cutter knife systems that are intended to make handling as easy and safe as possible. They also offer custom machine development to suit specific client needs. Knecht offers consultation services in over 30 countries worldwide.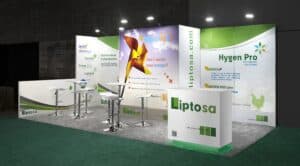 Liptosa is a family-run company that specializes in animal nutrition and disease prevention. They offer feeding additives designed to enhance animal health and development while combating a variety of illnesses. Their products offer solutions for a wide range of animal feed types, including poultry, swine, cattle, bees, fish, and pets. The company is based in Madrid, Spain, and is present in over 56 countries across five continents.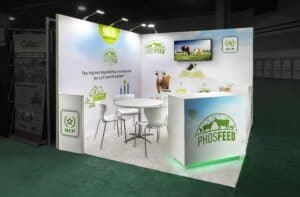 OCP is a Moroccan-based company that specializes in soil fertilization. They strive to bolster plant growth and increase crop yields to sustainably feed the world population. OCP, which has been operating for almost 100 years, claims 31 percent of the global market share of phosphate in all its forms. The company operates worldwide, with locations in North and South America, Africa, Europe, and Asia.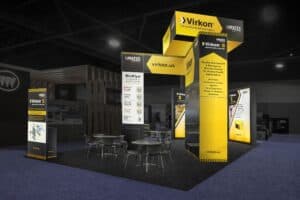 Virkon, a brand under German chemicals company LANXESS, is a range of biocidal technologies used to produce disinfectant solutions for commercial livestock producers, veterinary hospitals, and farmers. These disinfectants are engineered to promote animal health. Virkon's products help to inoculate a wide variety of animals from diseases, including horses, pigs, poultry, pets, and even first responders in the midst of an emergency disease outbreak.
Conclusion
All things considered, IPPE 2020 was a great success. Key industry players gathered to network, teach, and learn, all for the benefit of the production and processing industries. Here at Metro Exhibits, we're proud of the work we did to help several great companies show off their products and services in a unique and engaging way on the trade show floor.
Looking ahead, IPPE 2021 will be held from January 26 to January 28, once again at the GWCC. We're eager to see what exciting new activities and educational sessions will be announced leading up to the show.
It's never too early to start planning for a big trade show, so if you want to exhibit at IPPE 2021 (or any other upcoming show), check out our custom design and rental exhibits here. If you have any questions or ideas you'd like to discuss, don't hesitate to reach out to us.