Experiential Marketing is one of the hottest topics out there today. With so many of the major players resorting to this marketing medium lately, it makes us wonder how we can incorporate this model into our own marketing plans. Some question cost restraints, others question the ability to measure return-on-investment effectively, but realistically trade shows are the perfect arena for this marketing channel and I will tell you why.
Before diving in to how this method can be used on the trade show floor, I would like to briefly discuss the meaning of experiential marketing for those who may not be familiar. Experiential Marketing is a promotional method that encourages two way interactions between the consumer and a brand in an attempt to connect on a more personal level and to provider higher engagement rates. It is a method that is notoriously hard to ignore, yet less intrusive than typical marketing or advertising means. When done well, experiential marketing makes consumers want to be involved as opposed to invoking the feeling of being forced to listen. Still having difficulty grasping the concept? Let me share some of my favorite examples of experiential marketing with you.
Costco:
I start with Costco because of its simplicity, low cost, and the relevance that it holds with the majority of people. The (pre-pandemic) samplers at Costco are one of my favorite, and most appetizing, examples of experiential marketing. It is hard to leave Costco having not purchased something from a sample stand, and that is the draw. Consumers choose to get involved, it isn't viewed as intrusive, and even if it doesn't result in an immediate purchase it builds positive customer relationships for life.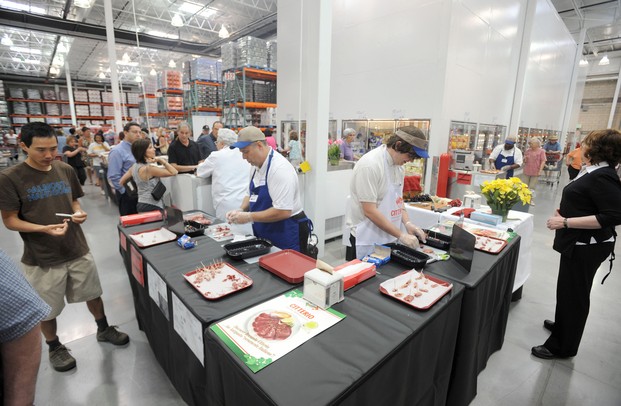 TNT:
In 2012, TNT launched its "We know drama" campaign. From a cost perspective this example is on the opposite side of the spectrum than the Costco Samplers, but the execution and inherent intrigue is terrific. The reason this example of experiential marketing is so powerful, is because it reached beyond the immediate audience to a much larger one following the recording. This video now has over 52 million views on YouTube in addition to the number of individuals who witnessed it live or on TV. The majority of the successive views were free, all due to the buzz created from the initial experiential marketing effort.
What Experiential Marketing Can Do at Your Next Trade Show:
Now that the basics of experiential marketing have been covered, it is time to uncover the benefits of using this medium at your next trade show. Experiential Marketing can:
Increase voluntary customer interaction
Build positive long-term relationships
Create a desire for your product/service offerings
Increase word-of-mouth marketing on the trade show floor
Increase overall return-on-investment for the event
The reason that a well-executed experiential marketing plan can accomplish all of these goals is because people enjoy the element of surprise. People attend trade shows expecting to buy and learn, and are generally presented with a monotonous routine. The company that uses unique experiential marketing methods that create two way interaction and appeal will be the talk of the show. However, you want to make sure that you have established you measurement criteria in advance.
Measuring Experiential Marketing Return-on-Investment at Trade Shows:
The nice thing about experiential marketing at trade shows is that it is substantially easier to measure performance at a show than it is to measure performance when done in public. If your presence, booth layout, and staffing are all part of the experiential marketing experience, than your return-on-investment is just the all-in cost divided by the number of leads generated. This will give you your best KPI, being your cost per lead acquired. The best incremental performance metric is to compare your productivity to that of last year. If you did the same show last year and have the performance results without experiential marketing, comparing this year's metrics to those of last year is the best way to quantify its relative effectiveness. There will always be variables from year to year (overall show attendance, booth location, etc.) but if done well, you should see a significant increase in booth traffic and lead generation using experiential marketing. And remember, if you succeed and get a large number of people visiting your booth then that means that there will be increased traffic to anywhere you have online presence. This is vital because if the people don't like that they see because your website is old and hard to use then they won't want to invest in you. Some companies may put all their focus on their social media platforms as a way to build an audience around their brand. It gives companies a way to interact with both their customers and potential customers, answering any questions they may have, and integrating them into their development process. Social media is great for experiential marketing as it gives businesses a direct line through their customers thus aiding with their audience and customer growth.
Examples of How Experiential Marketing Can Be Used at Trade Shows:
If you are struggling to come up with a good experiential marketing concept for your next trade show, I will provide some general options by show type. Granted these are just ideas, but please feel free to use any that you see fit for your brand.
Fashion Show – Create a runway in your booth space and let your attendees model your clothing on the catwalk. Have your staff take photos like paparazzi and give them this photo as a memento with you company's contact information.
Gaming Show – Create a digital wall that will let your prospective customers immerse themselves in a video game virtual reality. Even if the game is not necessarily one that you sell, a basic game will still draw attendees to your booth and incite interaction with your staff. This is the perfect time to build a relationship.
Security Show – Have professional pickpockets work your booth. When they interact with attendees, they will confiscate their belongings without their knowledge. At the end they will present the attendees with their belongings and build a memory that will last a life time. This will tap into their need for safety (Maslow's Hierarchy of Needs) and entice them to learn more about your product offerings.