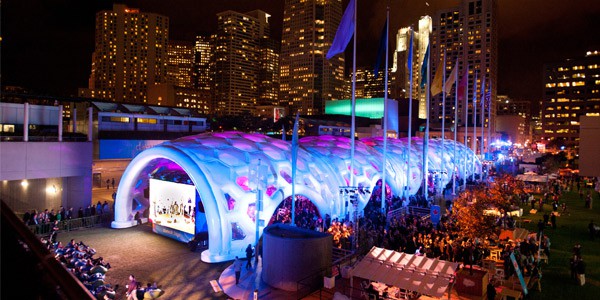 Dreamforce may very well be the most anticipated and highly attended conference in the Bay Area each year.  This Salesforce run event will take place from September 15th through the 18th at the Muscone Center in San Francisco, CA.  Dreamforce 2014 drew over 150,000 attendees from all over the world.  Last year's event had top-tier talent, brilliant minds, and amazing innovators at every turn.  Such names as Tony Robbins, Bruno Mars, The Beach Boys, Hillary Clinton, and will.i.am were either performing or providing inspiration for the masses.   With this year's event rapidly approaching, it can only be assumed that Salesforce is once again going to blow our minds with one of the most interactive conference experiences in the world.  Dreamforce '15 is sure to be a star-studded and highly educational event with over 1,5000 breakout sessions and all of the latest technology, innovations, and industry leaders present.
Attendees Can Expect:
Over 1,500 sessions
Thousands of live solutions from the world's largest cloud ecosystem
Content tailored to your industry, role, and company size
Keynotes from industry and world leaders
A special guest band to rock the stage at the Dreamforce Gala
About San Francisco's Muscone Center
The Muscone Center is the largest convention and exhibition complex in San Francisco, California.  It is comprised of three main halls: two underground halls underneath Yerba Buena Gardens, known as Muscone North and South, and a three-level Moscone West exhibition hall across 4th street.  Since opening its doors The The Muscone Center has hosted a variety of well-known trade shows and has many planned for the near future.
Muscone Center Statistics and Information:
Muscone South

260,560 Square Feet of Exhibit Space
Divisible into Three Halls
41 Flexible Meeting Rooms
Muscone North

181,440 Square Feet of Exhibit Space
Two Halls
Up to 53,410 Square Feet of Flexible Meeting Space in 17 Rooms
Muscone West

300,000 Square feet of Flexible Exhibit Hall and Meeting Space
Free-Standing Facility Next to the Existing Muscone Center
Where to Stay
Finding a hotel in the city should be a breeze with the vast number of hotels available in multiple sections of San Francisco.  A quick BART train from the airport can put you in the heart of San Francisco near essentially any hotel of your choice.  Immediately surrounding the Muscone Center you will find the San Francisco Marriot Marquis, InterContinental San Francisco, Hotel Palomar San Francisco, and the Courtyard San Francisco Downtown to be highly hospitable choices.  You may also choose to venture out into the likes of China Town or even into Napa Valley to find a different hotel experience.  Wherever you choose, there is plenty to do.  An interesting addition to lodging accommodations in 2015 is The Dream Boat.  Dreamfroce has partnered with Celebrity Cruise Lines to add accommodations right on the San Francisco bay on their cruise ship that will be docked at Pier 27 throughout the conference.
 Trade Show Displays – Dreamforce '15
Metro Exhibits provides white-glove, concierge level trade show services for businesses and organizations who are involved with  Dreamforce and other trade shows, expos and conventions. If you are an event organizer or business, Metro Exhibits provides a wide range of services that will meet any need including trade show display design, rental, sales, logistics, installation and printing. We have 68,700 sq.ft. of manufacturing and storage capabilities throughout the country including in New York City, New York, Orlando, Florida, and Las Vegas, Nevada. We make sure that you never have to worry about a single aspect of your trade show experience.
At Dreamforce our trade show services include, but are not limited to:
Pre-Show Trade Show Services
Exhibit manufacturing
Project management
Floorplan and manual procurement
Trade show logistics
Venue & labor coordination
Manage audio visual, electrical, F&B
Paperwork and contract management
On-Site Trade Show Display Services
Shipping
Installation/Dismantle
On-Site Supervision
Show Services Coordination
Material Handling/Drayage
Post-show Trade Show Services
Shipping
Storage
Lead Retrieval
Cost Reconciliation