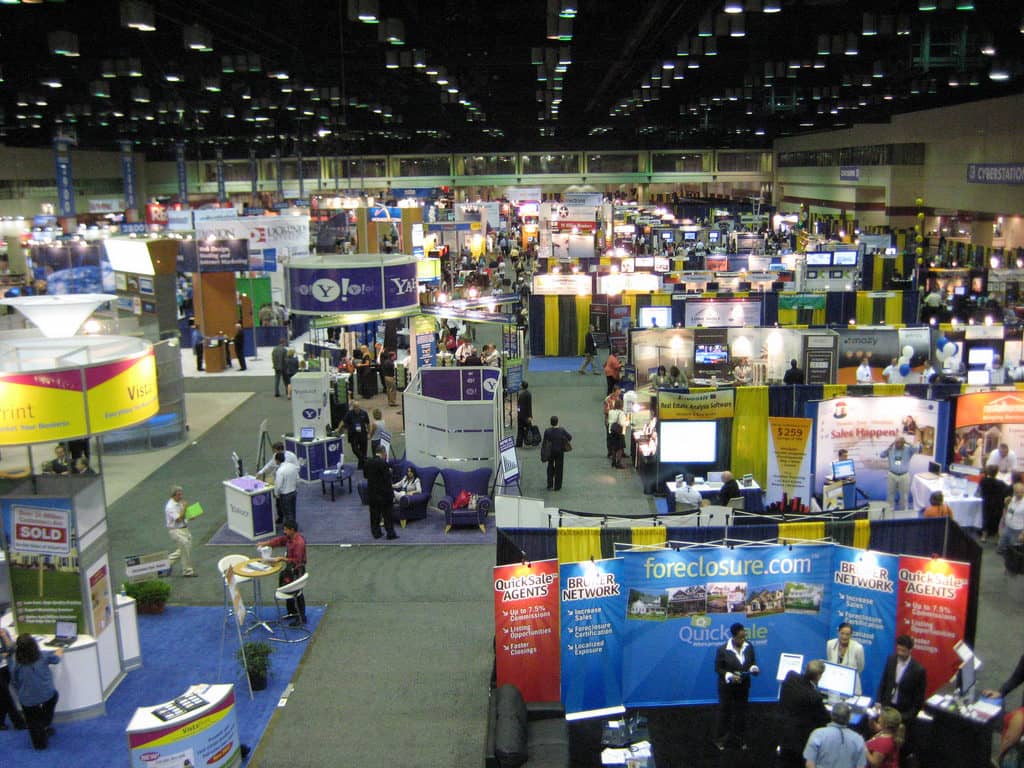 1. Make Your Trade Show Booth Inviting
Think of the places in your life that catch your attention and make you feel that you just can't pass them by. Now imagine hundreds of places close to each other all vying for your attention. Reduced to its basics, that's what a trade show is all about. That's why the most important thing you can do is get a custom booth artfully designed by experts in attracting attention in meaningful ways. The experts at Metro Exhibits design and build custom booths to your specifications. They're experts in what works. Remember, you're at the show to generate leads. If you don't capture attention, you won't capture leads.
2. Make Your Trade Show Booth Informative
Exhibiting at a trade show is a marketing activity. Every company that exhibits has an event marketing strategy. That marketing strategy includes a position statement and product or services descriptions. Display your messages with clarity and prominence. Reinforce who you are. Make clear what new, enticing offering you've come to the trade show to announce. Make them feel they just can't pass by your booth without finding out more. Font size, color, signage dimensions, placement all come into play.
Watch your expenses. Is it better to purchase or rent a booth? Is it sometimes better to do one or the other, depending on the distance of the trade show from your nearest office? What about storage options for your booth that can eliminate shipping costs? International exhibitors in trade shows in the U.S. can avoid customs and other costs by storing their booths inside the country. Be smart about travel expenses for your show staff. Keep the staff as lean as you can. Be sure to take advantage of room blocks set aside by the exhibit in a timely fashion. It's always best to book rooms early since they can always be canceled, and to book flights as early as it's known who will attend as flight costs can go up dramatically over time.
4. Location, Location, Location
Learn how the organization holding the trade show allots floor space to exhibitors. If you have exhibited before, lobby for a better position than the one you had last year. Make it part of your negotiation. Study the show agenda. If there are breakout sessions, find out when and where they will be on the show floor. Try to position your booth where attendees will congregate for refreshments or lunch. If you do not know the venue, ask to see the layout. Find out where the educational sessions will be held and try your best to position your booth in a location that attendees will need to pass repeatedly. Ask Metro Exhibits for help. There isn't a venue or a show where we have not done work, or do not know intimately. Every trade show has a landscape and you want to find yourself in the optimum location in that landscape.
5. Size Matters
It's important that your booth not be much smaller than those of your competitors. But size is certainly not the only thing that matters. In fact, a large vacuous booth that is not interesting or does not make the kind of statement you are trying to use to attract and retain customers will backfire. Evaluate your options and costs. Learn as much as you can about your competitors. Study the developing Exhibitor List. Ask for it if it isn't posted on the website. Decide what size you can afford and then consult experts in designing and building booths that make an interesting, meaningful statement.
6. Be Timely with All Your Materials
Don't miss deadlines. Nothing looks as bad as your company or product description on a loose sheet of paper slipped into the Exhibit Guide. It makes it seem as if your attendance at the show is an afterthought, or worse, that meeting deadlines is an issue at your company which may very likely surface when you deliver the product or service you are offering to customers. You will want to be stocked up on materials to ensure that every last detail of information regarding your exhibit is displayed in a professional and attractive manor. You might also be interested in merchandising and other promotional materials to help sell your business to attendees. It is all about how you present yourself. Store your descriptions in a place where you can go right to them. You want to know how your description appeared in last year's Guide, and make changes if changes apply. Preparing for a trade show appearance requires project management. We can help. Ask about the Metro Exhibits Trade Show Checklist. We'll send it to you.
7. Ask for the Attendee List
You know the profile of your prospective customers. You should also know your existing customers. If an updated attendee list is not available on the Exhibition's website, ask for it. Know who is coming to the show. This is an occasion to reconnect with your existing customers. If there is an issue with any of the existing customers planning to be present, your staff at the booth should know about it. However large your company may be, don't make it seem so large that you don't pay attention to your customers. The prospects on the attendee list are the main reason you have invested in the trade show. You should know their names, what they look like, their positions at the company, how long they have been in those positions, the size and location of their companies, plus any other relevant details you can gather. From LinkedIn and company websites alone, there is just too much information easily accessible that you should not know as much as possible in advance about the prospects you hope to draw into your booth.
8. Send Personal Messages in Advance of the Show.
If the attendee list available to you does not include email addresses, do your best to find them out. Send out a meaningful, personal email saying something about what you will be showing and how much you are looking forward to a booth visit. The more your email message looks like a mass email sent at the last minute, the less effective it will be. Remember, every action you take is a marketing action that creates an impression. Every marketing action should be aimed at achieving your sales goal. This is the reason you have invested in the trade show.
9. Be an Active Listener on the Trade Show Floor
When a prospect enters the sphere of your booth, deliver your message for sure, but also listen actively to what the prospect says. Take notes on the back of the prospect's business card, or on an iPad after the conversation ends. Write down questions you were asked or trace where the conversation led, even in non-business directions. These details will be useful in your follow-up. In your email or telephone follow-up, you may have to remind the prospect that you met. It's easier to do that with specific details. Answering real questions is your first delivery on your company's offering. Make it work.
10. Get the Post-Show Attendee List
This list will include late sign-ups and walk-ins. Find out how long it will take to get this list. Don't wait for the list to do your follow-ups. You already have the last published attendee list before the show. Most of the names will be on that list. When you do get the post-show list you can always compare and do the same follow up to this smaller list of additions.
11. You Must Follow Up
The attendees at the show fall into two groups: those who stopped by your booth and those who did not stop by. Both groups include your existing clients and prospects. Usually, different people at the company are responsible for clients and prospects. Let's focus on the prospects. Send them personalized emails including details about your conversation. If you were asked a question, answer it. The goal here is to get an exchange going. Because emails can be sent out quicker than phone calls can be made, send emails first and follow up with phone calls. Rate your prospects from top to bottom. If you cannot get to all of them in a timely fashion, contact the most promising first. You should, however, get to them all, because when a lead turns into a sale is not always dependent on your offering. It often depends on the prospect's timing, which is not always apparent. Remember, the entire reason you have invested in the trade show is to generate leads. Eventually, someone will compare the cost of the show to how much business was generated. If you don't follow up effectively, you are throwing away your investment.
12. Learn from the Session Descriptions
Take back to your office more than one copy of the Exhibit Guide, and read through the session descriptions. Give additional copies of the Guide to other members of your company. Although this information is also probably listed online, the book itself is a good reminder to read about the sessions. If you were lucky enough to have a representative who gave a session, find out who attended and what questions were asked. Find out what companies were in the audience and match these companies to your prospect list. The sessions are a guide to what is considered important in your industry at the current time. If there are session topics about which your company is unaware, bring them to management's attention. Learn from them.
13. A Trade Show is Like an Open Book
Actually, it is more like a magazine or television show, in which the attendees are like readers or viewers, the exhibitors like advertisers, and the educational sessions like the editorial in the magazine or the content of the TV show. The attendees come for the content, and they come across the exhibitors on the way to that content. Your job is to lure them into your space with the excellence of your booth design, the intelligence and relevance of your messaging, the product demo or conversational exchange, or both, that you conduct.
14. The Importance of Leads
All the work you do to prepare for the show, and however well you perform at the show, can only be measured by the leads you generate and the disciplined way you follow up those leads. Contact us. Metro Exhibits will evaluate your trade show needs and make recommendations. We design, build, and print all signage for your trade show booth, along with purchase and rental options. After all that, we ship, store and install booths, and we will advise you on the best way to manage your trade show expenses. Our goal is to make your trade show experience a success.